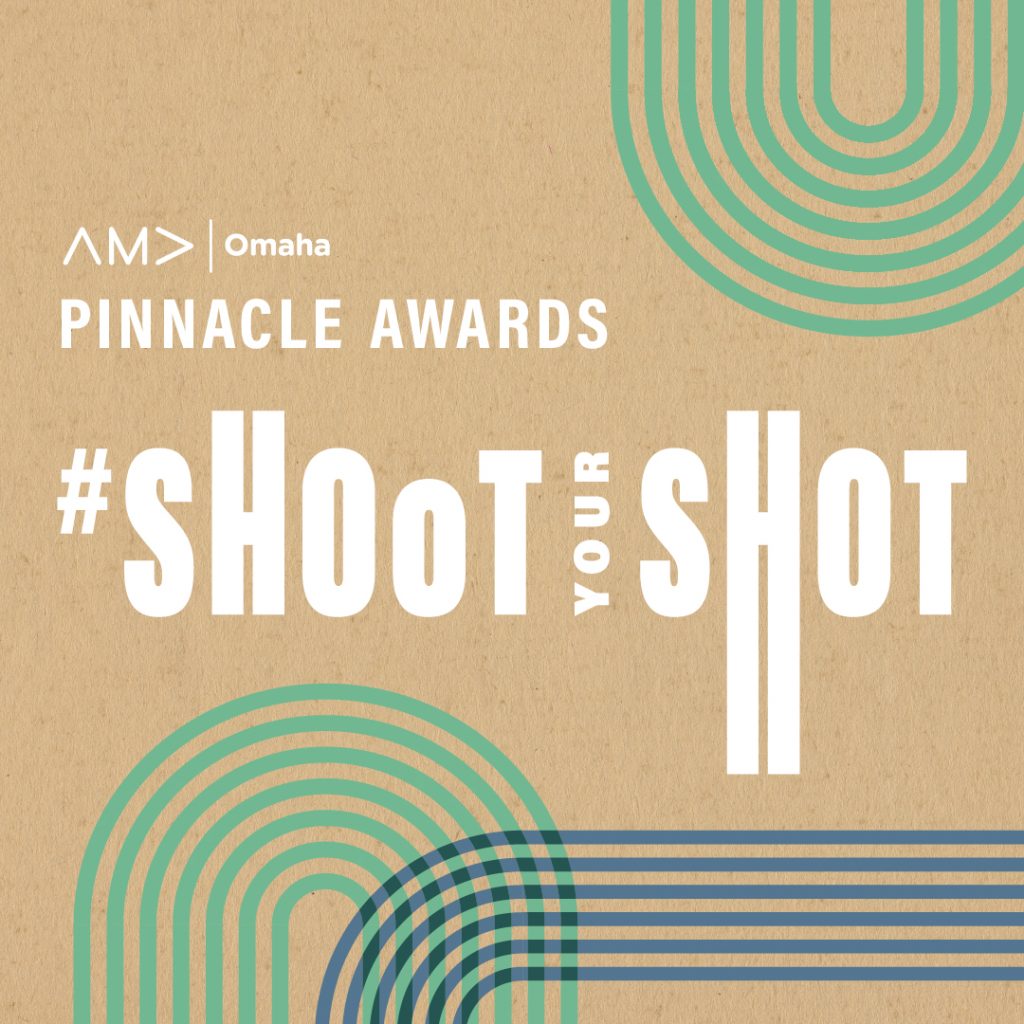 Omaha's Annual Recognition and Celebration of Local Organizations and Their Most Successful Marketing Campaigns
About the AMA Omaha Pinnacle Awards
The Pinnacle Awards are a yearly showcase of the area's outstanding marketing talent and the successful campaigns that are the result. Entries include categories and nominees from across the marketing spectrum, from student to large business. Awards are presented based on metrics and measurable tactics—focusing on results not creative.
2022 Pinnacle Awards
The 2022 Pinnacles Awards Gala took place on June 8, 2022. It was an exciting event with some of the best of Omaha all in one location. 
Our thanks to the valuable sponsors who made this event possible: Barnhart Press, KidGlov, Grolar Media, OBI Creative, and Renze.
2022 Award Winners
Categories included Student, Communications, Public Relations, Promotions, Video, Digital Media, and COVID-19 Adapt and Elevate. Special recognition is also given to those chosen for Best in Show, Bob Otis Diamond Award, In-House of the Year, Marketer of the Year, and Agency of the Year.
STUDENT
BRONZE: Bellevue University, Peloton Interactive Digital Brand Evaluation
SILVER: Bellevue University, Nebraska State Fair Entertainment – Quantitative Research
GOLD: University of Nebraska at Omaha, UNO's Student-Ran Marketing Agency Supports The Inaugural Omaha Freedom Festival
PINNACLE: Bellevue University, Impact of Financial Literacy Apps – Quantitative Research
COMMUNICATIONS
LARGE BUSINESS
SILVER: Carson Group, Carson Partner Guide
GOLD: KidGlov, Hometown Bank
PINNACLE: Jet Linx, Jet Linx SOAR Magazine
NOT-FOR-PROFIT
BRONZE: Metropolitan Community College, Community Volume 9, Issue 2
SILVER: Cox Media, Education Heroes
GOLD: KidGlov, Raising Our Response to Hunger Capital
PINNACLE: KidGlov, Make School Fruitful
PUBLIC RELATIONS
SMALL BUSINESS
SILVER: OBI, Mary Ann O'Brien Thought Leadership
NOT-FOR-PROFIT
GOLD: Make-A-Wish Nebraska, Make-A-Wish Nebraska Wish Heroes
PINNACLE: KidGlov, World's Largest Rodeo
LARGE BUSINESS
BRONZE: LEO A DALY, Omaha VA PR/Marketing
SILVER: Mutual of Omaha, Mutual of Omaha's Wild Kingdom Rose Parade Float
GOLD: SCORR Marketing, Elligo, On a Mission to Make Clinical Trials Available to All
PINNACLE: Carson Group, Excell 2021 Event
PROMOTIONS
NOT-FOR-PROFIT
GOLD: KidGlov, DreamWeaver: Boots and Buckets, Promotion
PINNACLE: Bozell, Blue Jean Ball: Hope is Essential
SMALL BUSINESS
BRONZE: OBI, Pinnacle Bank Championship
SILVER: Eleven Twenty-Three, Scooter's Coffee Las Vegas Franchisee Sponsors Las Vegas PRIDE 2021
GOLD: Scoular, Pet Food Forum Tradeshow Booth & Show Signage
PINNACLE: Kingswood & Palmerston, The CMO's Secret Weapon
LARGE BUSINESS
BRONZE: Mutual of Omaha, Mutual of Omaha's Wild Kingdom Print and Digital Calendar
SILVER: KidGlov, Road Rebellion
GOLD: Bozell, Save Your Energy for Vala's
PINNACLE: KidGlov, Star Savers
VIDEO
NOT-FOR-PROFIT
SILVER: KidGlov, Foster Care
LARGE BUSINESS
BRONZE: Eleven Twenty-Three, Creighton University Men's Basketball Arena Package for Last Season
SILVER: FNBO, Dollar Bills
GOLD: Carson Group, OPE Hype Video
PINNACLE: First National Technology Solutions, FNTS Video Content Card Meaningfully Connects With Prospective Cloud Clients in the New Normal
DIGITAL MEDIA
NOT-FOR-PROFIT
BRONZE: Emspace + Lovegren, KVNO Rebrand 
SILVER: KidGlov, NIFA Website Redesign 
GOLD: KidGlov, Tech Away 
PINNACLE: Boys Town, Boys Town Teach Love 
SMALL BUSINESS
BRONZE: SCORR Marketing, ABS Kids Website
SILVER: Cox Media, Lakeside Auto Recyclers | Media Math: Tactics x Targeting, Shred the World = Success
GOLD: Seldin Company, Park 120 Oak Hills Geofencing
PINNACLE: Refine Digital Marketing, Uniti Med Traveler Acquisition
LARGE BUSINESS
BRONZE: WoodmenLife, WoodmenLife Always On
SILVER: FNBO, 31 Days of Joy Social Media
GOLD: KidGlov, MembersOwn Credit Union Q2 Home Loan
PINNACLE: KidGlov, Road Rebellion
BEST IN SHOW
KidGlov – Make School Fruitful Campaign
BOB OTIS DIAMOND AWARD
Sarah Morris-Rotermund
IN-HOUSE OF THE YEAR
Woodmen Life Marketing Team
MARKETER OF THE YEAR
Mary Kate Gulick, Carson Group
AGENCY OF THE YEAR
KidGlov